English version ed. by Alisa Nasibulina
"

Five Evenings

"

festival ogranized by Union of Russian composers
Union of Russian composers has organized a chamber music festival entitled "Five evenings". Five concerts over five evenings on 8-13 December included pieces by 50+ composers from different Russian regions. Concerts were given by the Chamber choir of Moscow conservatory, Studio For New Music ensemble, Moscow Contemporary Music Ensemble, N'Сaged ensemble, Reheard ensemble, Arina Zvereva (soprano), Sergej Tchirkov (accordion), pianists Ekaterina Mechetina, Alexey Goribol, Mikhail Dubov, Pyotr Aydu and others.
The festival provides a panorama of contemporary Russian music featuring Rodion Shchedrin, Yuri Kasparov, Leonid Desyatnikov, Alexey Sysoev, Alexander Khubeev, Nikolay Popov, Olga Bochikhina, Nikolay Khrust, Anton Svetlichny, Efrem Podgaits and others. New compositions by Vladimir Rannev, Alexander Tchaikovsky and Dmitri Kourliandski have been premiered by prominent Russian musicians and ensembles.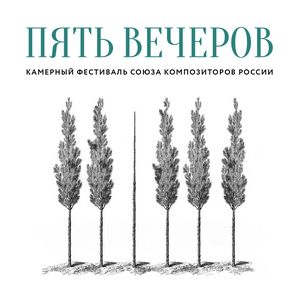 Anthology of Russian contemporary music released by "Melodiya" record label
Union of Russian composers and "Melodiya" record label have released a set of six CDs featuring Russian contemporary music. The anthology entitled "Sound Review" is to be continued in the future. The recordings are available on all streaming platforms including Apple Music, Spotify, YouTube, Deezer, Tidal, Yandex Music, Vkontakte, etc.
"Sound review" covers all contemporary composition techniques from minimalism to experimental electronics showing top trends of Russian music scene. Six CDs include music from early 20th century avant-garde to contemporary pieces all performed by Moscow Contemporary Music Ensemble (MCME). Albums #1 and #2 comprise the first and the second waves of Soviet avant-garde. Pianist Mikhail Dubov plays works by Alexander Mosolov, Arthur Lourié, Gavriil Popov, Edison Denisov, Sofia Gubaidulina, Arvo Pärt, Valentyn Silvestrov, Alexander Vustin, Vladimir Tarnopolski, Vladimir Martynov and so on.
Albums 3-6 feature chamber music of today created by contemporary Russian composers under 50 years old. Authors born from 1970 to 1990 include Dmitri Kourliandski, Vladimir Rannev, Alexey Sioumak, Pavel Karmanov, Nastasya Khrushcheva, Kuzma Bodrov, Alexey Sysoev, Olga Bochikhina, Aleksey Nadzharov, Nikolay Khrust, Vladimir Gorlinsky, Nikolay Popov, Anna Pospelova and others. Composers from Russian regions also appear on the albums including Alina Podzorova, Mark Buloshnikov, Elmir Nizamov, Anton Svetlichny, Denis Khorov, Alexander Khubeev.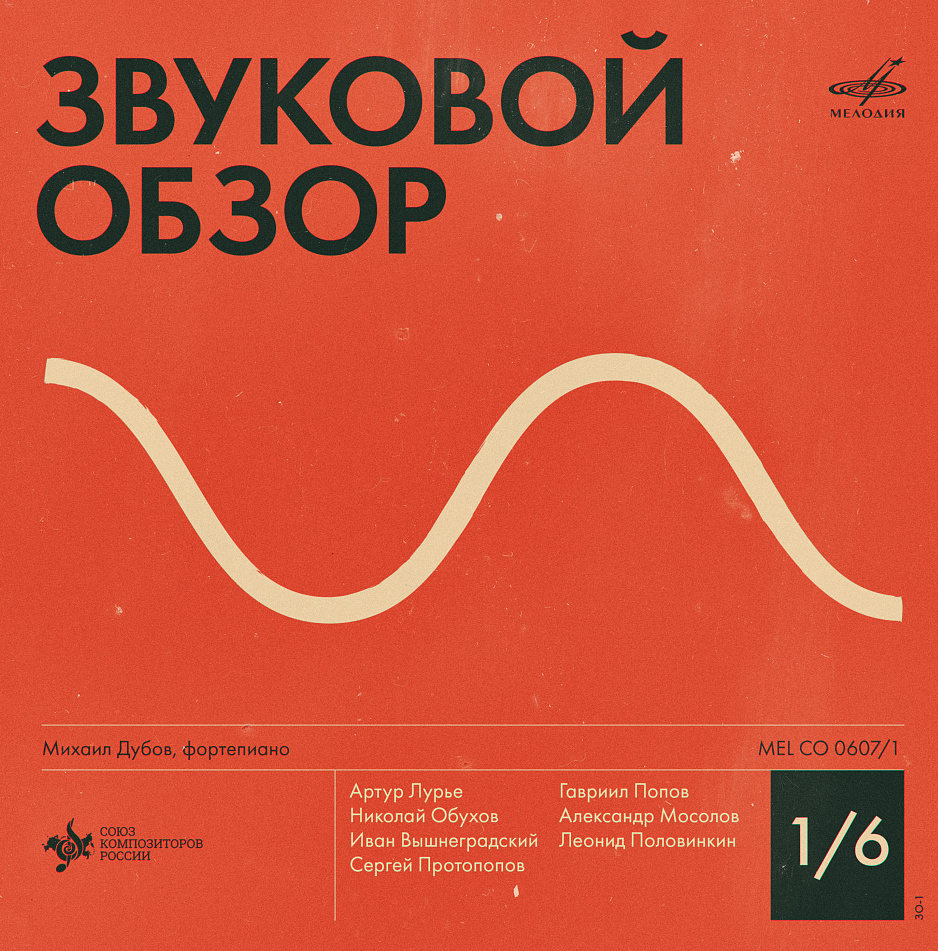 "Another space" festival program
"Another space" festival has been held in Moscow despite the pandemic limitations. The events took place in Moscow Philharmonic Society on 17-21 November. The festival hosted 9 events over 5 days.
The program included three orchestra performances by Russian National Youth Symphony Orchestra conducted by Valentin Uryupin, Moscow State Symphony Orchestra conducted by Philipp Chizhevsky, State Academic Symphony Orchestra of Russia "Evgeny Svetlanov" under the baton of the festival's artistic director Vladimir Jurowski. They were joined by soloists Stanislav Khristenko (piano), Daniil Tsvetkov (piano), Andrey Gugnin (piano), Elena Revich (violin), Yury Favorin (piano).
The chamber program was presented by Ensemble InterContemporain, Moscow Contemporary Music Ensemble, Studio For New Music ensemble, Questa Musica ensemble, Musica Viva Chamber Orchestra and GAMEnsemble. Soloists featured were Martin Adámek (clarinet), Clément Saunier (trumpet), Aylen Pritchin (violin), Roman Mints (violin), Sergei Poltavsky (viola, electronics), Alexander Ramm (cello), Alexander Rudin (cello), Alexey Potapov (electric guitar), Dmitri Illarionov (guitar).
The festival program saw the world premieres of works by Boris Filanovsky, Alexander Manotskov, Edison Denisov, Anton Safronov, Sergei Zyatkov, Olga Rayeva, Alexey Retinsky. Some pieces by Klaus Lang and John Luther Adams were performed in Russia for the first time.
The concerts were streamed online and are available at the Moscow Philharmonic Society
website
.
The performances were followed by online conferences with the musicians
streamed
at Stravinsky.online:
17 November
Five pianists Yury Favorin, Stanislav Khristenko, Mikhail Bouzine, Dmitry Batalov and Daniil Sevostyanov discuss contemporary piano music.
19 November
Ensemble InterContemporain conductor Dylan Corlay and trumpeter Clément Saunier interviewed by Stravinsky.online editor Rena Fakhradova.
21 November
Violinist Aylen Pritchin, violist Sergei Poltavsky and conductor Philipp Chizhevsky interviewed by Stravinsky.online editors Tatyana Yakovleva and Miroslava Tyrina.
24 November
Online conference with the festival's artistic director Vladimir Jurowski hosted by Stravinsky.online editor-in-chief Vladislav Tarnopolski and Moscow Philharmonic media manager Maria Kholkina.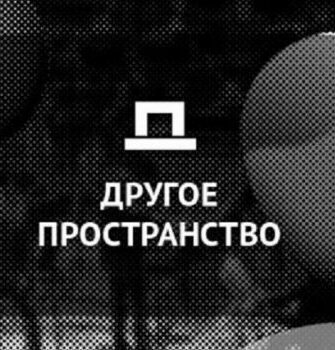 10th International Young Composers Academy in Tchaikovsky-city
International Young Composers Academy in Tchaikovsky-city has returned for the tenth time. An annual academy for young musicians and curators has been held on 3-15 November. During the two-weeks period young composers attend lectures and master classes of renowned composers. Students of the academy compose new pieces performed at the final concert by Moscow Contemporary Music Ensemble (MCME). The artistic director of the academy is composer Dmitri Kourliandski.
Professors of the 10th academy are composers Oscar Bianchi (Switzerland), Raphael Cendo (France), Andrew Toovey (UK), Sergei Nevsky (Germany/Russia), Vladimir Rannev (Russia), Mehdi Hosseini (Iran/Russia), Alexey Sysoev (Russia), Alexander Khubeev (Russia), Nikolay Khrust (Russia), Dmitri Kourliandski (Russia).
The academy has also organized a series of online events together with Centre foe Contemporary Music of Moscow Tchaikovsky conservatory. Professors Oscar Bianchi (Switzerland), Raphael Cendo (France), Andrew Toovey (UK) have given online presentations moderated by Sergej Tchirkov.
The lectures are available in English.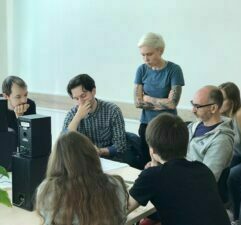 Composer Alexander Vustin awarded with posthumous prize
Alexander Vustin was posthumously awarded the Golden Mask in best composer for his only opera "The Devil in Love". The composer passed away this April from COVID-19.
It took Vustin fourteen years to finish the opera (1975-1989) but it wasn't staged until 30 years later in 2019. The libretto written by Vladimir Khachaturov is based on Jacques Cazotte's novel of the same name. Moscow theaters were reluctant to accept the opera written in the twelve-tone technique. It was conductor Vladimir Jurowski to take the initiative to revive the long-forgotten masterpiece. "The Devil in Love" was premiered in 2019 at the Stanislavsky and Nemirovich-Danchenko Theater staged by Alexander Titel. Title roles were performed by Daria Terekhova and Anton Rositskiy who also received the Golden Mask in best opera actors.
Alexander Vustin's works include chamber and orchestra pieces such as The Word for winds and percussion, Hommage à Beethoven for percussion and chamber orchestra, Music for Ten, Agnus Dei for mixed choir, percussion and organ, Music for an Angel for saxophone, vibraphone and cello, Sine Nomine for orchestra, etc. In 2016/2017 he became composer-in-residence of the State Academic Symphony Orchestra of Russia "Evgeny Svetlanov".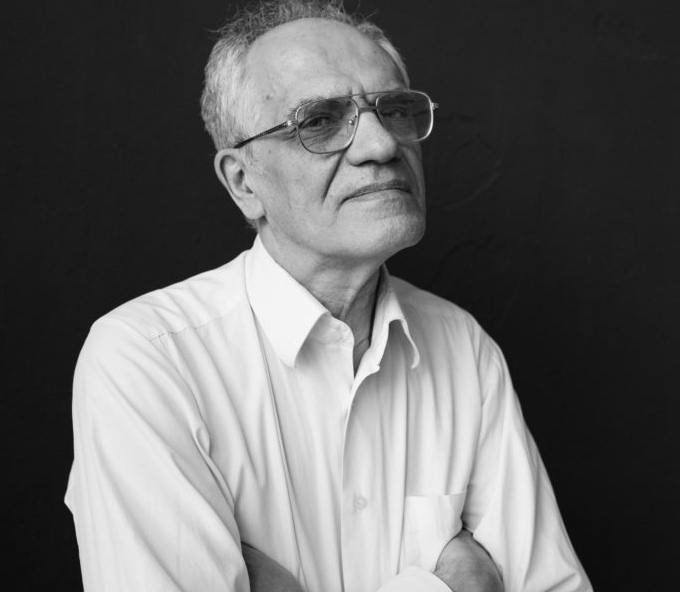 Gnesin Contemporary Music Week program
Third Gnesin Contemporary Music Week festival took place on 14-17 October at the Gnesins Russian Academy of Music. The
program
included concerts, performances, roundtable discussions, lectures and master classes.
This year's festival was centered on performance art and sound perception. Composer Olga Bochikhina created a site-specific performance "in↔out" in which the audience became the artist. Participants explored both the music heard outside and the music existing inside a person's mind. The performance was accompanied by a roundtable discussion on the topic. Another performance showed to the public was Alvin Lucier's famous "I Am Sitting in a Room" executed by composer Arman Gushchyan. It was preceded by a roundtable discussion linked to Lucier's "Music 109: Notes on Experimental Music" released in Russian by Jaromír Hladík press.
Lectures and master classes were given by composers Laurence Crane, Boris Filanovsky, Nikolay Khrust, Kirill Shirokov and Oleg Krokhalev, musicologist Rena Fakhradova, theatre director Sergey Morozov. Concert program included four events over two days featuring music by Matthew Shlomowitz, Klemen Leben, Laurence Crane, Beat Furrer, Donnacha Dennehy, Mark Andre, Marco Stroppa and others. The program was presented by ensemble Reheard, pianists Dmitry Batalov and Vladimir Ivanov-Rakievsky.
Gnesin Contemporary Music Week is a contemporary music festival organized by Gnesins Russian Academy of Music students and graduates. It mostly focuses on young composers and musicians.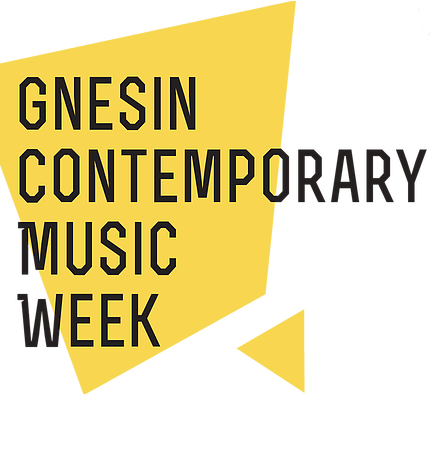 Edison Denisov website available online
A
new website
dedicated to composer Edison Denisov is now available in English, French and Russian. It was launched by the international association Edison Denisov Society Paris. The website features composer's biography, bibliography, discography and online catalogues of his works. "Media" section comprises documentaries, video interviews and conferences with Edison Denisov as well as some of his pieces.
Edison Denisov Society Paris was created in 2020 by Denisov's daughter Ekaterina Desgraupes-Denisov. Honorary president of the association is Vladimir Jurowski and artistic director is Anton Safronov. Anyone who pays an annual membership fee may become a member of the association.